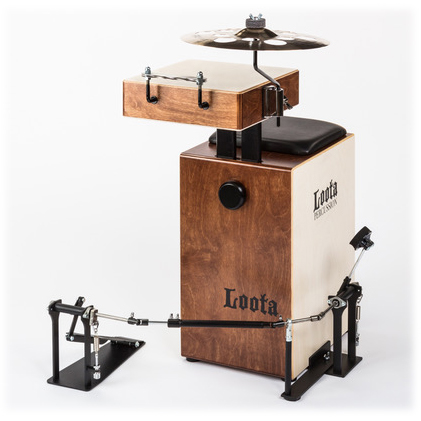 Brand Notice: Loota Percussion is a high quality wooden drum set, designed in Finland and handmade of birch. Loota Percussion includes a bass drum with a seat pad, a snare drum, a cymbal and a crasher. It has magnificent sound and it is a perfect choice for acoustic gigs.
Loota Percussion can be played with cajon brushes. The bass drum is played with a Loota Percussion pedal. Loota Percussion is really fun to play and extremely easy to travel with, you can pack the whole drum-set into one carrying case. The complete drum set can be set up and taken down very quickly and requires very little space on the stage.
More details on Loota Percussion can be found at the website www.lootapercussion.com
---
Aviso de la Marca: Loota Percussion es un conjunto de tambores de madera de alta calidad, diseñado en Finlandia y hecho a mano de abedul. Loota Percussion incluye un bombo con una almohadilla de asiento, una caja, un platillo y un chocador. Tiene un sonido magnífico y es una opción perfecta para conciertos acústicos.
Loota Percussion se puede interpretar con cepillos de cajón. El bombo se toca con un pedal de percusión Loota. Loota Percussion es realmente divertido de tocar y extremadamente fácil para viajar, puedes empacar todo el conjunto de batería en un estuche. El conjunto de batería completo se puede configurar y desmontar muy rápidamente y requiere muy poco espacio en el escenario.
Se pueden encontrar más detalles sobre Loota Percussion en el sitio web www.lootapercussion.com